The tuxedo guppy is a beautiful guppy fish breed known for its distinctive black and white markings on its body resembling a tuxedo. Tuxedo guppies are a result of selective breeding. There are different color stains in tuxedo such as white tuxedo, yellow tuxedo, red tuxedo, blue tuxedo, etc.
White Tuxedo Guppy
Guppies can be found in varied colors. White Tuxedo Guppy, as the name indicates, is of white color and looks very elegant. The stunning white-silvery body with a mid-black body of this guppy fish makes it unique. While people are a fan of colorful guppies, there are many who are fond of white tuxedo guppy due to its elegance.
Yellow Tuxedo guppy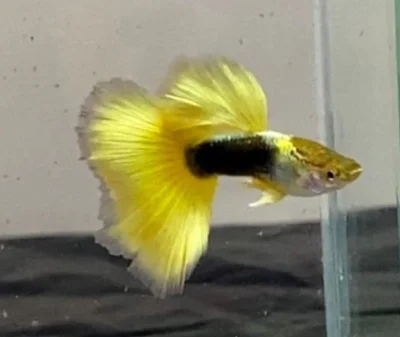 The yellow tuxedo guppy is a stunning guppy fish. As the name suggests, the Yellow Tuxedo guppy has a bright yellow body, accented by black and white markings that resemble a tuxedo. While they are relatively small in size about two inches in length, these fish make up for their size with their energetic and elegant personalities.
Red Tuxedo Guppy
The red tuxedo guppy is a stunning guppy fish species that boasts a bold red coloration with striking black accents in the mid-body and its fins, resembling a tuxedo. These are highly sought after by aquarium enthusiasts due to their vibrant appearance and peaceful temperament.
Hybrid Yellow Tuxedo Guppy
The Hybrid yellow tuxedo guppy is a bright yellow colored guppy with a beautiful look. Its body is predominantly yellow, with contrasting black markings, and a distinctive fan-shaped tail. This guppy is a peaceful social fish that thrives in a variety of water conditions.
Blue Tuxedo Guppy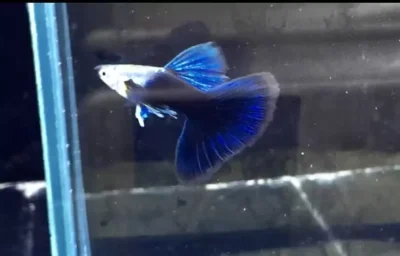 The blue tuxedo guppy is a strikingly beautiful guppy fish species. It is known for its vibrant blue coloration, which is accented by black stripes across its body, giving the impression of a formal tuxedo. The blue tuxedo guppy is also a regular breeder, and its fry are relatively easy to raise.
Tuxedo Guppy Overview
The Tuxedo guppy fish is a popular choice for aquarium enthusiasts due to its active and hardy nature. The males are smaller and exhibit more vibrant colors, including a range of blue, red, yellow, and purple shades. The tuxedo guppy is relatively easy to care for and is an excellent choice for beginner fish keepers.
Tuxedo guppies are a result of selective breeding and could be a great addition to the tank. Since it is undemanding and peaceful in nature, it is perfect for beginners.A healthy, well-fed white tuxedo guppy fish can live up to 3 to 4 years.
Tuxedo Guppy Water conditions
With the pH ranging between 6 to 8 and hardness around 15-35 dKH will be perfect for the fish to thrive well. Tuxedos thrive at a water temperature 76-to-80-degree Fahrenheit as it is with all fancy guppy fish. Tuxedo's require good quality water with less waste content in the tank.
Tuxedo Guppy Diet
Guppies  are omnivorous and can eat a variety of food. You can give them anything, right from live worms, mosquito larva and daphnia. But to maintain its attractive color we recommend  dried and frozen foods that are rich in proteins. Also, you can try any high quality guppy feed which contains both animal matter and plant matter.
Tuxedo Guppy breeding
If you are keeping this tuxedo guppy fish for breeding purposes, make sure the tank has proper filtration and ambient water parameters. Since guppies are livebearers and deliver fry, ensure that you maintain a separate breeder tank, else the adult end up eating their fry. It is better to have some plants and hiding places which encourage the female to breed. The breeding begins with males chasing the female frequently. Like all fancy guppies' tuxedos deliver 20 to 40 fries depending on their age and size.
Tuxedo Guppy life span
A healthy and well-fed white tuxedo guppy fish can live up to 3 to 4 years. They start showing up their colors and sexuality when they are 4 to 5 months old. Also, they bred many times in their life cycle. All that you need is to maintain the correct water parameters and provide a high nutrient diet for longer life.