Thai oranda goldfish are an exotic variety oranda breed's that are mostly originating from Thailand. Let's have a look at some stunning Thai oranda breeds with images.
Thai oranda's have a perfect round body shape long dorsal fin and a split caudal fin. They have exuberant colors ranging from  red, black, orange and yellow and all other colors in between. Thai oranda's are a very playful breed which makes them entertaining to watch and very gently to the eye and soothing to the brain. They require clean water condition with very low ammonia content in the aquarium. They also need vast spaces as they can grow from 8 to 10 inches.They need plenty of aeration and it is highly recommended to have an external filter to maintain the water quality. With excellent water quality Thai oranda's can survive up to 10 years. They require high quality goldfish pellets  to retain their vibrant colors. They are highly susceptible to bacteria and fungi. So, make sure to have a quality fish medicine at hand. Thai Oranda's can lay up to 1000 eggs and you can hatch somewhere around 100 fishes if you are a good breeder.
Black Thai oranda with Fan Tail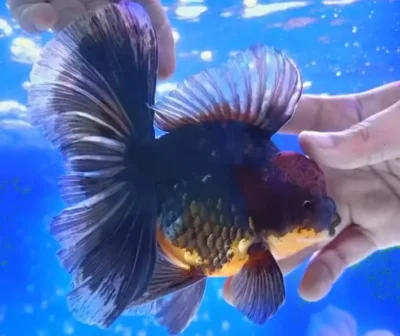 Red and black Thai Oranda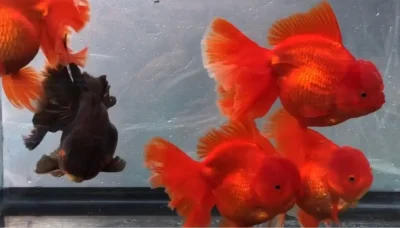 Fan tail Thai Oranda
Panda a Thai Oranda with red head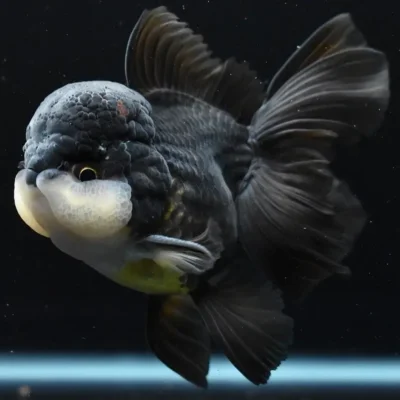 Panda Thai Oranda
Breeding Thai Oranda's 
Thai Oranda breeding requires careful selection of breeding pairs, optimal water conditions, and a nutritious diet with lot of plants in the aquarium tank to create a natural environment. The fish should be mature enough to breed and must be fed a couple of time more than usual. You also place a spawning mop in the tank for the eggs to land on. Having spawning mops and plants gives security and  confidence of not losing their eggs. The breeding season for the goldfish is in the late spring and early summer. There should be a gradual increase of water temperatures say from 25 degree centigrade to 28 degrees over a 10-to-15-day period. This is to mimic an early summer for the goldfish. The breeding process involves the male chasing the female, and the eggs being laid and fertilized in the process. After spawning you need to remove the parent as the goldfish love eating their own eggs. The eggs will start hatching in 48-72 hours. The fry would take some days to swim and the fry should be fed with high-quality food. Regular water changes and maintenance are crucial for the survival and growth of the fry.