Cobra Guppies is one the most beautiful Fancy guppy breeds. There are many varieties of cobra guppies like the Red Cobra, Yellow cobra, blue cobra, white cobra , black cobra guppy, Yellow King Cobra guppy, Albino Red Tail Cobra, Blue tail Cobra Guppy and Gold cobra Guppy.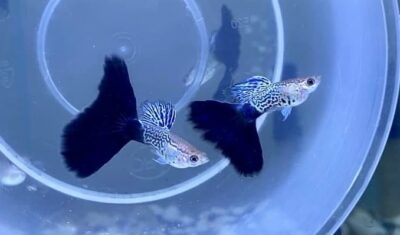 The cobra guppy has a brightly colored body with distinctive markings resembling the hood of a cobra. Its body ranges from shades of blue and green to vibrant oranges, yellows, reds, etc. They are active swimmers are suitable for beginners due to their hardy nature. However, they do require a well-maintained aquarium with a few live plants and hiding spots.
Cobra Guppy Strains and varieties:
Yellow Cobra Guppy
The yellow cobra guppy is a brightly colored guppy fish that features a combination of yellow and black stripes on its body. This guppy is named after the venomous snake species Cobra, due to the resemblance of its bold stripes to those a snake.
White Cobra Guppies
This white cobra guppy fish has a snow-white body with distinctive black stripes that resemble the design of a cobra snake. The tail of the white cobra guppy is long and flowing, which adds to their elegant appearance.
Black Cobra Guppy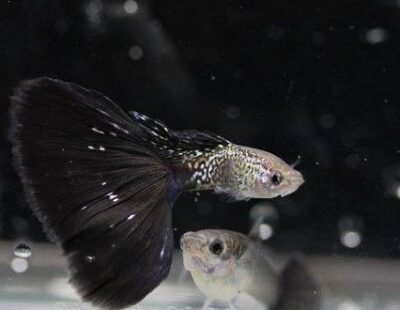 The black cobra guppy has a distinctive black body with white or silver snakeskin-like markings. Male black cobra guppies also have long, flowing tails that add to their beauty.
Yellow King Cobra Guppy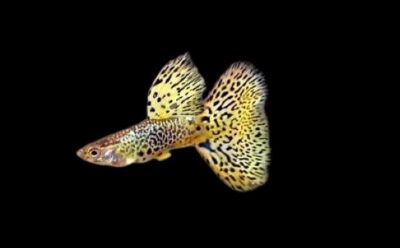 The yellow king cobra guppy is a beautiful guppy fish with yellow and black stripes resembling the pattern of a king cobra. They are a popular choice for aquarium enthusiasts due to their bold coloration and active nature.
Albino Red Tail Cobra Guppy
The albino red tail cobra guppy is a captivating aquarium fish. It has an albino coloration with a large red tail. This strain of guppy is highly sought after due to its striking appearance and active swimming behavior
Gold Lace Double sword Cobra Guppy
The gold lace double sword cobra guppy is a beautiful and a unique guppy fish. Its body displays a beautiful gold lace pattern, while its tail resembles that of a double sword.
Red Cobra Guppy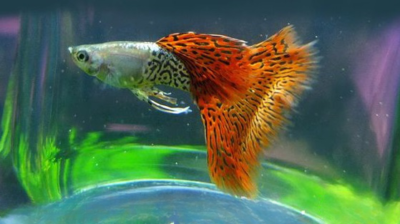 The Red Cobra Guppy is a popular guppy fish among aquarium hobbyists. This variety of guppy has a striking bright red color that covers most of body with elongated fins and resemble the shape of a cobra's hood. These fish are peaceful and easy to care for. They are also known for their prolific breeding, which makes them a favorite of breeders.
Blue Tail Cobra Guppy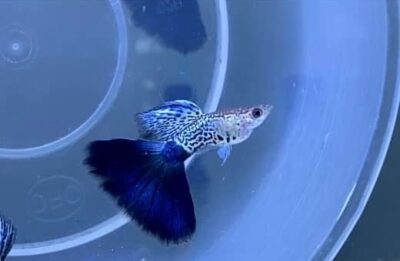 The Blue tail Cobra Guppy is a beautiful Guppy fish that has a bright and large blue tail that stands out against its blue snake skinned body. This guppy is relatively easy to care for and makes a great addition to any aquarium.
Blue Cobra Guppy
The Blue Cobra Guppy is a popular Guppy fish, with bright blue hues and intricate markings on the large tail resembling that of a cobra snake. These fish are a popular choice among guppy enthusiasts due to their active and playful personalities, and ability to thrive in a variety of water conditions.
Green Cobra Guppy
The Green Cobra Guppy is a beautiful guppy that can add color and vibrancy to any aquarium. These guppies have distinctive green markings that resemble the pattern of a cobra snake. They are small, peaceful fish that can be kept in groups and thrive in planted aquariums. The males are more colorful than the females and have longer tails.
Female Cobra Guppy
The Female Cobra Guppy, scientifically known as Poecilia reticulata, is a favorite among guppy enthusiasts due to its hardy nature. The Female Yellow Cobra Guppy displays a semi-transparent  yellow color on its body and fins. They have a solid and large tail with yellow and black stripes resembling the pattern of a cobra.
They mature very quickly and can breed every 30 days. They can deliver between 10 to 40 fries in a batch. Similar to other Fancy female Guppies, the Female Cobra Guppy does best in an established aquarium of at least 8 to 10 gallons. Though they are tolerant and hardy, care should be taken to maintain stable water parameters.
They love the presence of plants in the aquarium and hiding spaces which provides shelter to their fries once they breed.
Lifespan of Cobra Guppies
The  lifespan of Cobra guppy fish is between two to three years. Like any other fish, their life expectancy is largely attributed to genetics and the level of care you provide. Cobra guppies are a hardy variety of Guppy and if prper care is given they can live upto 3 years.
Tank size
When it comes to tank size, Cobra guppies we recommend a 10-gallon tank or larger for 10 to 15 Cobra guppies together.
A larger tank can provide more room to live comfortably. Cobra Guppies are highly active and love to swim around in the tank. They love some plants  and hiding spaces in the tank. A male Cobra Guppies can grow upto 2 inches and a female cobra guppy can grow upto 3 inches in length.
Water Parameters
Water parameter is a very straight forward one when it comes to Cobra guppies as they are hardy in Nature. 
Below is our recomendation.
Water temperature: 70°F to 81°F

pH level: 7.5 to 9

Water hardness: 8 to 11 dGH
Diet
When it comes to food, Cobra guppies can take whatever comes to its mouth. But a highly nutritious food with a combination of both plant and animal matter will brighten their colors. Cobra Guppies would love nutritious food like micro pellets, brine shrimp, frozen dry worms ,etc. which will enhance their longevity and health.  
Behavior and Temperament
Cobra guppies are peaceful and easy-going by nature. They love to live in groups and can live with other guppy varieties and small less aggressive fishes.
Tank Mates of Cobra Guppies
Stick to peace loving fishes as their tank mates. Also add more female cobra guppies as male enjoy matting.
Here are a few tanks mates for Cobra guppies.
Molly Fish
Platy Fish
Tetras
Bristlenose Plecos 
Diseases
Like all Guppies cobra  Guppies can get infected if the water conditions are poor. Hence a 20 to 30 percent water change is required for at least in a 15-day frequency. Water changes help to  keep  ammonia levels low in Water. Amonia is formed from the excreta of the guppy fish. You can use an aquarium Gravel Cleaner or other cleaning tools to directly remove the excreta from the tank.
Common guppy infections are diseases such as ick (white spot), velvet (gold dust), fin rot and flukes.
But the good news is that they can be cured once you identify the disease early and treat them medicines that can be added to water. You can even treat the infected guppy separately in a smaller tank.  
Breeding Cobra Guppies
Cobra Guppies breed easily. The breeding process involves in adult cobra guppy chasing and mating the female cobra guppies. The pregnant female Cobra guppy usually breeds fries once in every  30 days. To maximize the chances of breeding, keep water conditions consistent, and feed a high-quality diet couple of times a day. 
Cobra guppies can  deliver between 10 to 40 fries depending upon their size, and age. Once the fries are delivered make sure to separate the fries from the adults as they would eat the fries. 
You can even consider buying a guppy breeding box. You may put a male Cobra Guppy and female Cobra guppy in the breeding box when your female guppy is very close to delivery. Avoid putting a recent pregnant guppy in the breeding box as it may stress out due to less space and lead to death.