A red dragon guppy is an eye-catching guppy fish with an iridescent red coloration. Its dorsal and tail fins have a distinctive fan shape with red color combinations.
Red dragon guppy often features in a red, pink, yellow or white tone on the lower half of its sides. It has long, trailing fins shimmer in the water, and its small size makes it easy to keep in a home aquarium. Red dragon guppies are lively and are often seen darting between plants or playing hide and seek. They are not aggressive and enjoy living in small groups. They feed on flakes, small pellets or frozen foods, and need clean, well-aerated water to stay healthy.
Red Dragon guppy with a pink shade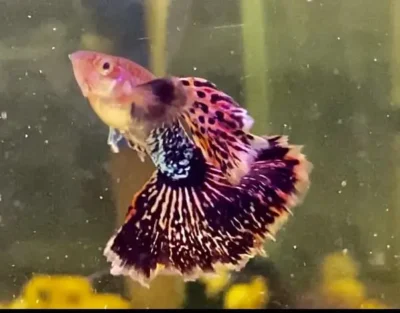 Red Dragon Guppy Pairs requires at least a 10-to-15-gallon tank and is very tolerant of changing water conditions. Other peaceful fish would make good tank mates with red dragon guppy.
Red dragon Guppy with blue Patch

With Red Dragon Guppy, the males are smaller in size, have brighter coloration, along with a bigger half-moon fan tail. The guppy fish appear in red and slight yellow or pink combination with great coloration on the tail.  The females are larger in size with a duller coloration on the body and a smaller tail. Ideally, the environment should have a plants to hide and protect the fry. The fry should be fed brine shrimp, micro food, and pulverized flakes.
The Guppy is an omnivore and requires both algae-based foods as well as meaty foods. An algae-based flake food, along with freeze-dried blood worms, and brine shrimp will provide guppies with the proper nutrition.
Click here for more beautiful Blue Guppy strains