Blue guppy are vibrant species of guupy fish stunning blue coloration. Let's  have ave a look at Moscow blue guppy, electric blue guppy, blue grass, blue cobra guppy, blue Koi guppy, blue panda guppy and blue tuxedo guppy images and price.
Moscow Blue Guppy
Moscow blue guppies are a unique strain of the blue Guppy fish that originated in the cold waters of Moscow.  The blue Moscow guppies have a very dark blue shade throughout the body with long blue tail and large blue fins. Hard water is best for blue Moscow guppies. The blue guppy  gains a beautiful dark blue color while they are young itself  and is particularly sought-after by guppy enthusiasts. They can deliver from 10 to 40 fries based on their age and size. Their size ranges from 2 inches to 4 inches. The blue males are smaller compared to the females. They live best at temperature from 75 to 81 degree fahrenhiet. The Moscow blue guppy for sale online is in many places around the world. Their  cost ranges from $20  to  $40. Feed them with good guppy feed to maintain their dark blue color.
Blue Lace Guppy
The blue lace guppy is an elegant fish with its long fins and tail, it features a  vibrant blue lace-like patterns near the caudal fin. This blue lace guppy is a great addition to any  aquarium. It is easy to care for and thrives in best in hard water with temperatures around 74 to 81 degree Farenhiet. Add a few of these lovely blue lace guppies to your aquarium and watch them swim to the top of your aquarium for a truly awesome display. As like many other  guppies the  blue lace guppies typically breed every month  and can deliver from 10 to 40 fries. Their size ranges from 2 inches to 4 inches.  They live best at temperature from 23 to 27 degree fahrenhiet. The pure blue lace guppy for sale online is only in a few websites as they are very rare. Their cost ranges from $50 to $70. They require high quality guppy feed and few plants in the tank to maintain their vibrant colors.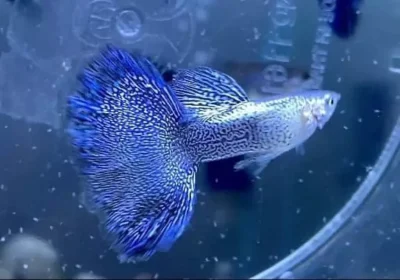 Blue Grass Guppy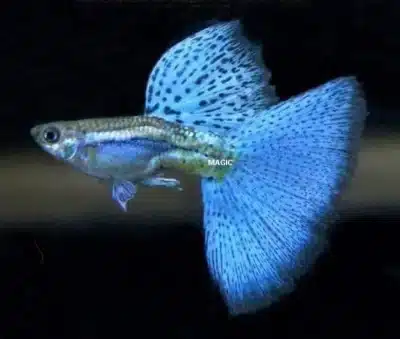 The Blue Grass Guppy is an eye-catching blue guppy fish with striking tints and rainbows of blues and greys. They boast two prominent caudal fins and an elongated dorsal fin, which flutter as they swim gracefully. In the wild, Blue Grass Guppies  feed on small invertebrates, like mosquito larvae. In community aquariums, Blue Grass Guppies are happiest in larger groups, where they can form networks and socialize. The Blue Grass Guppy can deliver 10 to 40 fries and it best at 74 t0 81 degree fahrenhiet. Their cost ranges from $40 to $65.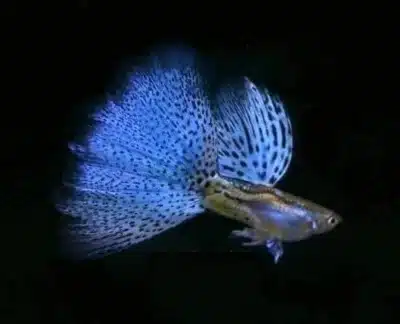 Blue Panda Guppy
The blue panda guppy is a with its translucent iridescent white body adorned with a pattern of dark blue stripe looks like a pandora. Its tail is usually  dark blue in color, and its fins with a dark blue color. This guppy grows up to 2 inches in size and despite its small size, the blue panda beautiful guppy fish. It is  hardy and easy to care for. The Blue panda Guppy can deliver 10 to 25 fries and it best at 23 t0 27 degree fahrenhiet. Their cost ranges from $25 to $45.
Blue Pearl Guppy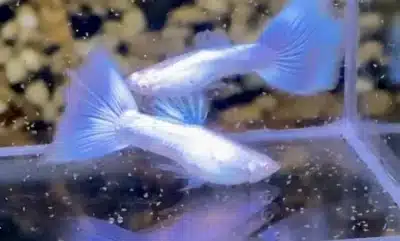 The Blue Pearl Guppy is an exotic variety of blue guppy fish known for its vibrant light blue sheen and looks like a pearl. It needs  proper care and good guppy feed to maintain it bright colors. It lives best at a temperature around 75 to 80degree fahrenhiet and its cost is around $50 to $75.
Blue Cobra Guppies
The blue cobra guppy is a beautiful blue guppy fish variety with an eye-catching coloration. Its color is a blue-grey hue, with a black stripe running along the back and white silver streaks along the sides. This guppy is a vigorous swimmer and is sure to add a splash of beauty to any aquarium. The cobra guppy prefers  water temperatures around 75 to 80 Degree fahrenhiet and can deliver upt0 10 to 40 fries. The purest version of blue cobra guppy costs somewhere around $40 to $70. Give quality guppy feed for the blue guppy sparkle bright and be healthy.
Sky Blue Guppies
Sky blue guppies are the perfect way to brighten any aquarium. They have a stunning iridescence to them, and their sky-blue scales appear to sparkle under the light. They are active and  often seen flirting around the entire tank. These guppies also come in striking combinations of blue and silver that add beauty and graceful flair to any aquarium. Hard water is the best as with any exotic guppies and they can breed and deliver 10 to 40 fries. They cost around $50 to $70.

Navy Blue Guppy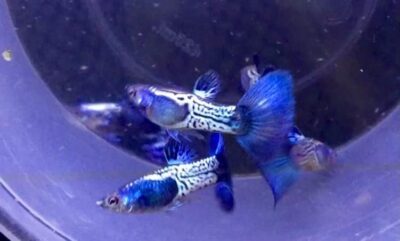 The Navy Blue Guppies are stunning fish with deep, navy-blue tails, fins and a silver color pattern in the mid body . They are stunning guppy fishes known to be peaceful and hardy. They prefer warm temperatures around 75 to 80 degree fahrenhiet, they breed easily and deliver somewhere around 10 to 45 fries. They are a new exotic guppy variety and costs around $50 to $80.
The Blue Dragon Guppy is one of the most beautiful varieties of the blue guppy variety. It has a stunning deep blue body with white accents on the fins and tail. The blue dragon males  can grow to up to 2 inches in length. They can breed and deliver up to 10 to 30 fries and they live best under temperatures around 24 to 27  degree centigrade. The cost of blue dragon guppy ranges from $30 to $60.