The oranda goldfish is a unique, round-bodied goldfish with an impressive frilly crown of fins. Let's have a look at some of the exotic oranda goldfishes with images.
Oranda the distinctive-looking fish is a favorite among freshwater fish hobbyists. It has a body shape that is both graceful and stout with its flowing fins and tail. It is known for its bright orange, red, and white coloration and is found in a variety of patterns, along with its signature red cap on the head. They are easy to care for and can make a great addition to the home aquarium. Oranda goldfish tend to be friendly and are often seen interacting with other fish in their tank. They are also fun to watch, soothing to the eyes and mind as they move gracefully through the water and sometimes come to the surface to request food.
Beautiful Oranda Goldfish Images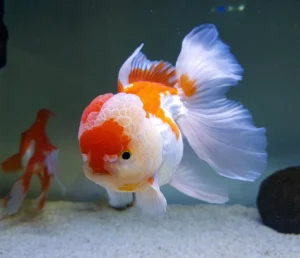 Large oranda with fan tail
Cute white Oranda
Show quality red and white oranda
Large show quality oranda
The Calico Oranda is a popular and versatile freshwater fish originating in China. It is a hybrid of a lionhead and a ranchu and can be identified by their vibrantly-patterned patchwork scales and unique, wen-crested heads. Calico Orandas are generally larger than other breeds, with the potential to grow up to 8 inches in length. They are not particularly active and do not require strong water flow, though plenty of hiding spaces should be provided. Their omnivorous diet includes pellets, flakes, veggies, and live and frozen foods. Calico Orandas have large appetite and should be offered food more than once a day. With their outgoing and friendly personalities, these gentle fish make great additions to any fresh-fish tank.
Calico Oranda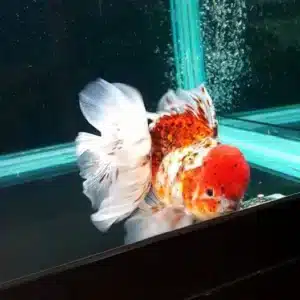 Calico goldfish
Panda Oranda
Panda Orandas are a type of ornamental goldfish known for their unique, round appearance. They have a black-and-white circle pattern on their body, and a head shape similar to a panda bear. Orandas are strong swimmers and like to be active with other fish, but they can be fussy eaters. They require a clean, well-maintained tank to thrive, and they need high-quality food that is rich in vitamins and minerals. Orandas can live up to 10 years or more with proper care. They make a great addition to any aquarium, and can be a fun and fascinating pet for the whole family.
Panda goldfish Images
Black Panda oranda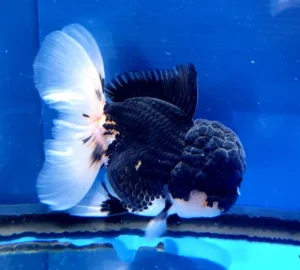 White panda oranda 
show quality Panda Oranda