Discus fish are one of the most beautiful freshwater fish. Let's look at some of the stunning discuss fish images, care and breeding and variety.
Discus fish care involves providing a suitable environment for the fish to live in. The aquarium should be spacious enough for them to move around, the water temperature, pH level, and filtration system must also be appropriate. Regular 30% water changes and cleaning of the tank when necessary are important to maintain a healthy environment. Feeding the discus fish a balanced and varied diet is also essential for their well-being.We have spent many years keeping discus personally at home and would want to share our experience to keep your discus fish health and alive. Based on our experiences, this discus care guide offers practical advice and useful tips for beginners starting their first discus tank.
1) What Size Tank Do You Need for Discus?
2) Do Discus Really Need Daily Water Changes?
3) What Is the Ideal Temperature for Discus Fish?
4) What Fish Can Be Kept With Discus?
5) What Is the Best Food for Discus Fish?
Red Discuss fish
Yellow Discuss fish
Green Discuss Fish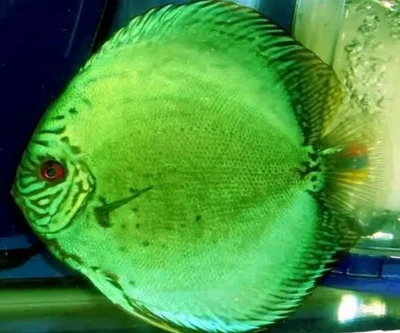 White Discuss Fish
Pink Discuss Fish
What Tank Size Do You Need for Discus
The bigger the tank the better it is. We personally recommend a 75–80 gallon aquarium or larger. You can do a 55-gallon tank, but then you will be forced to do a lot of water changes and have only a few discus fish. Remember that these fishes get big in size, usually 5 to 7 inches in diameter if you get all things right. Discus fish are schooling by nature and are much happier when surrounded by a large group of their own kind. As for tank setup is concerned  you need put them in a planted tank or at least put some plants to keep the health and bright. Without plants the discus fish would not be healthy. The need sufficient aeration, a good filtration system and a stable water. They like natural objects in the tank like sand, driftwood and stones.  
Do Discus Really Need Daily Water Changes?
The answer is NO. Remember that the purpose of water changes is to remove waste buildup. Therefore, the amount and frequency of water changes really varies for every aquarium. Several considerations should be taken  into account such as the tank size, how many  fishes you have and how much you feed them. If you have a good external you can just do a 30% water change once in 10 to 15 days. You would get to know the water change requirements  just by looking at the water color. If the water looks dirty then a water change is required.
What Is the Ideal Temperature for Discus Fish?
We recommend to keep the temperature around 25 to 27 Degree Centigrade. The reason is because the discus fish ideally would love to be in a planted aquarium and the temperatures for planted aquarium would be around 25 to 27 degree centigrade. And also, the discuss raised in farms also would be around the same temperature as mentioned above. Discuss don't like warmer condition and drastic temperature changes.
What Fish Can Be Kept with Discus?
Discuss fish are very gentle and soft in nature. You can have them with gentler fishes' tetra, guppies, cat fish etc. Don't have them with barbs, large angel fish and large mollies. These fishes are aggressive and would poke them constantly and keep them under tremendous stress . If you want to test it out, have them with your fishes and watch them if they are troubling your discuss fish. If they trouble them then you should not leave your discus fish along with them.
What Is the Best Food for Discus Fish?
Most people feed them foods that are way too big to eat, without realizing that discus mouths are quite small and they don't consume a lot of food like goldfish does. Therefore, if you see them eating the food, spitting it out, and then mouthing it again, you may have a problem with food size.
Frozen bloodworms are great because of their skinny shape and is perfect for slurping up. Remember  discus can get addicted to frozen worms quite easily. Make sure to feed them a wide variety of small foods to cover all the nutrients. Foods that are like small granules and very small flakes that tetras feed. Give the different variety of food and make sure the food is of high quality.
Discus Fish breeding
Identifying a discus sexuality quite challenging. Male and female discus both take 2 to 3 years attain  maturity. When you notice that two of your group appear territorial and chasing, transfer them to a breeding tank after a month. Make sure your breeding tank is large enough and you maintain good water quality and optimal temperature. Encourage the discus to lay eggs by adding few plants, driftwood, flat rocks and clay pots. This is just to signal the mother discus fish that their eggs are safe. When the mothers feel safe, they would easily lay eggs.
When spawning starts, initially they may start by laying just a few eggs in the breeding tank and the male will fertilize them immediately once the eggs are deposited. As the spawning progresses, the female may begin to deposit larger groups of eggs and male fertilizes the eggs. Female discus will take over the guarding of the spawning site. The discus fish will guard their eggs, fanning the water around them with their fins to prevent the growth of fungus. The eggs should hatch within 2 to 3 days' time and the fry will take a week to develop and swim.